Vasiliki Katsarou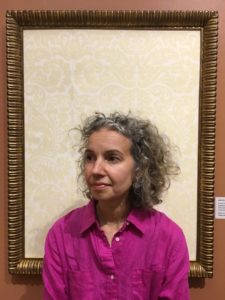 I'm a Geraldine R. Dodge poet, editor, independent curator, and sometime filmmaker. I'm a teaching artist at Clinton's Hunterdon Art Museum and have collaborated with the poetry program at ArtYard. I was a participating poet in the 2014 Dodge Poetry Festival.
I've organized a number of community-wide poetry events, including the Hunterdon County Tricentennial Poetry Reading at Flemington's County Court House in 2014. In 2015, I developed a day-long plein-air poetry event for Clinton's 150th anniversary.
Between 2010 and 2015, I founded and curated the Panoply Books Reading Series in Lambertville, New Jersey. I currently curate art and poetry events with artist Ravenna Taylor at her Lambertville studio.
Among my books is the full-length poetry collection, Memento Tsunami, and a chapbook, Three Sea Stones. I've published (as co-editor) two contemporary poetry anthologies with Princeton's Ragged Sky Press: Eating Her Wedding Dress: A Collection of Clothing Poems, and Dark as a Hazel Eye: Coffee & Chocolate Poems. My poems have been published widely and internationally, including in NOON: Journal of the Short Poem (Japan), Corbel Stone Press' Contemporary Poetry Series (U.K.), Regime Journal (Australia), Mediterranean Poetry (Denmark) as well as in Otoliths, Poetry Daily, and Tiferet: A Journal of Spiritual Literature.
You can contact me for poetry workshops, editing projects, and artistic collaboration across media.