The Creative Assets Inventory
A collaborative project whose success depends on YOU!
The arts are part of what makes our community special, unique, and sustainable — so knowing what we have and who we are is the first step in building a creative network. The Creative Team and Sustainable Frenchtown have been working with environmental consulting firm Environmental Connection, Inc. since September 2017 to design and publish this resource to inform, connect, and highlight our creative community.

To date, we have 180+ Hunterdon County assets in the map and directory — and we know there are more! Add creative people, places, organizations, businesses, associations, events, and supporting resources located within Hunterdon County here. Sign up through this site to receive updates. And, of course, check out the map and directory — there's so much amazing talent right here in the county!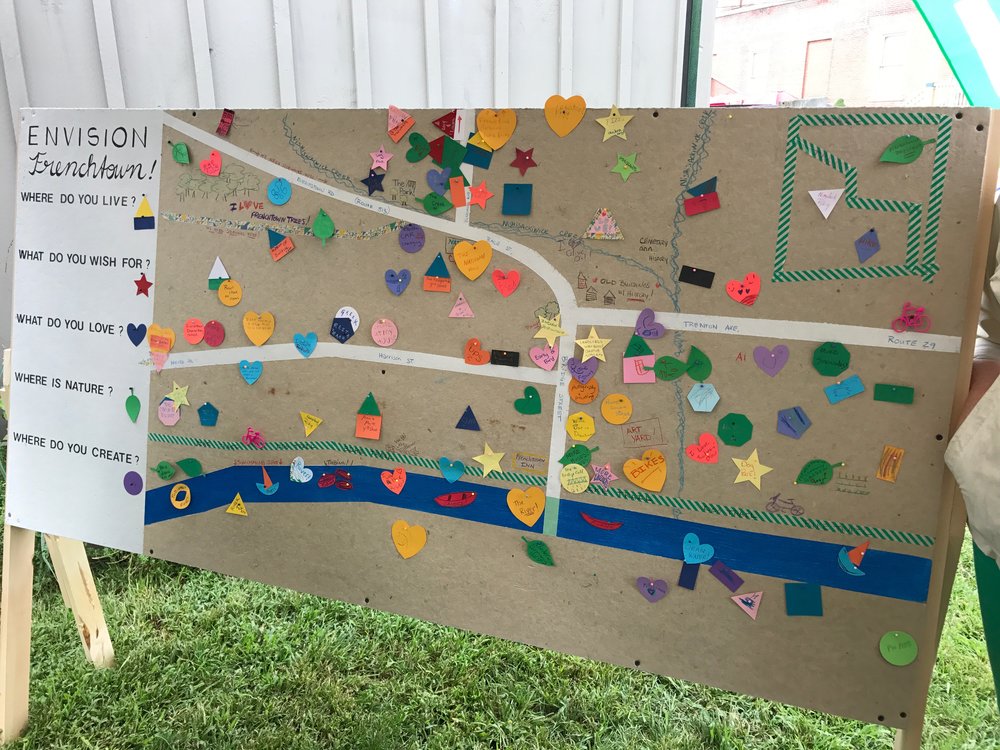 Engaging the Creative Community
We kicked off this project with an open public meeting attended by 20+ artists and community members to define the seven asset categories, as well as the survey questions and outreach strategy.
Then we deployed good old-fashioned shoe leather to get people to participate. The Creative Assets Inventory had tables at Riverfest and Frenchtown's 150th anniversary in September. You may have seen our mobile kiosk at five local hosts, including Frenchtown Home and Hardware, Early Bird, and the Book Garden. In November we went canvassing door-to-door in Frenchtown, telling people about the project, entering assets, and putting up Creative Asset decals in windows. We also conducted interviews throughout the county with creative people and other key stakeholders, and put out blasts through email and social media.
Awareness grew slowly at first, then snowballed as people began to tell their friends about the Inventory. We estimate that close to 400 people have been actively engaged in this project to date – and it's continuing to grow!
We're really grateful to ArtYard for hosting our launch celebration on March 11th — and to everyone who came out!
About The Consulting Team – Environmental Connection, Inc.
For this project, the Creative Team worked with Environmental Connection, Inc, a full service environmental consulting firm with over 30 years' experience in sustainability and community redevelopment. EC employs a ready complement of educated professionals cross-trained in a variety of fields including sustainability, energy efficiency, construction, geology, environmental law, and specialized redevelopment, as well as consultants with expertise in urban planning, architecture, and arts-driven revitalization. From our corporate offices in Trenton, NJ, and New York, NY, EC provides services throughout the Northeast and nationwide, as well as specific projects for international clients. Clients include federal, state, and local agencies, municipalities, educational institutions, and the architecture, engineering, development, and property management sectors. See more at www.vtihq.com.
Project Team
Susan Mania, Program Director. Susan is an artist and educator based in Hunterdon County. A former member of the faculty at the College of New Jersey, she has taught throughout the state of NJ and beyond. She is deeply engaged with the local arts community, with an extensive history of exhibitions in the Frenchtown area.  Susan has also participated in many local events, most recent THAT, Clinton Museum, Pennington Watershed and Cusworth Conservation studio. See more at www.susanmania.com.
Iana Dikidjieva, Research and Community Engagement Expert.  Iana has over ten years' experience in creative placemaking, community-driven data collection, and arts-related outreach. She created the interactive online mapping and information platform at www.RestoringTrenton.org, which has served as a national case study, and has overseen a variety of community-engaged mapping, placemaking, public art, and creative destination marketing projects in New York and New Jersey.