Samuel Fleming House / Fleming House Museum & Gardens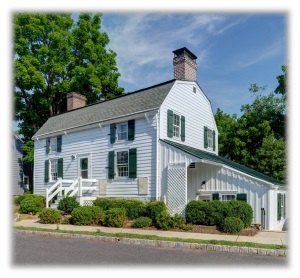 The Samuel Fleming House was built in 1756 by Samuel Fleming, a tavern keeper. The town of Flemington is named after him.
The Daughters of the American Revolution (D.A.R.) owned the house from 1927 until 2005 when Flemington Borough purchased the building from the D.A.R. with the goal of operating a local history museum. The Friends of Fleming Castle was formed to administer the museum as a Board of Trustees. The mission of the Friends of Fleming Castle is to maintain and preserve the structure and content of the Samuel Fleming House and grounds, and to provide it as a museum open to the public. Our goal is to provide an historic interpretation of life in early Flemington through guided tours, historically accurate displays, educational programs, museum events, as well as participation in community events. School programs have been developed in coordination with school curriculum, particularly the 2nd and 5th grades.