Delaware River Mill Society / Prallsville Mills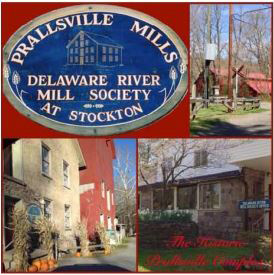 A historic mill complex with event spaces and artist studios.
The Prallsville Mills complex is a significant surviving representation of the 18th, 19th and early 20th century American village industrial complex. It provides insight into the close interdependence of the development of farming and industrial manufacturing operations with improvements of transportation options spanning our nation's history using the river, canal, roads and railways. The Prallsville Mills has been listed on the New Jersey State Register of Historic Places since 1976 and the National Register of Historic Places since 1979. The Prallsville Mills complex is located within the Delaware and Raritan Canal State Park in Stockton, NJ.
At one time, the Delaware River region was dotted with mills of every size and variety. Our nation's economic growth was strong because of the variety of industries these mills provided. It was a time when the prevalent technology meant that if you had water, you had a source of power. The very nature of this form of technology also carried its own risks; as all those mills were located in flood plains. It is not surprising, then, that not many of these grand mills that helped build the economic strength of the area still exist.
Today the Prallsville Mills is a resource for a wide variety of cultural, arts and community activities while also providing docent tours of the Mill Complex. The Prallsville Mills site is a perfect example of how our historic sites can remain an active asset to the community today while preserving and explaining or country's story of economic growth in relation our natural resources, transportation development and technology.