Lambertville Historical Society / James Wilson Marshall House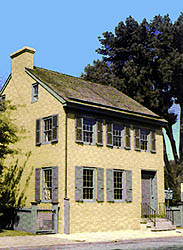 The Lambertville Historical Society sponsors events and activities that promote community awareness and appreciation of Lambertville's history and architecture. The Lambertville Historical Society also maintains and manages the James Wilson Marshall Museum at 60 Bridge St. in Lambertville. We also collect and preserve items of historical interest and make them accessible for public research.
The Lambertville Historical Society promotes, inspires and encourages the preservation and appreciation of Lambertville's architecture and history through education, community involvement, and preserving and maintaining the James Marshall Museum.
The Marshall House, on the National and New Jersey Registers of Historic Places, was the boyhood home of James Wilson Marshall, discoverer of gold in California in 1848, and is now the headquarters of the Lambertville Historical Society. The Federal brick structure was built in 1816 by his father, Philip Marshall, a member of one of the oldest families in New Jersey and by marriage to John Hart, a signer of the Declaration of Independence. Four rooms are open to the public; furnished with donated local furniture; costumes and shad fishing displays. Open 1-4 pm weekends, last weekend in April through October; and by appointment throughout the year.
The house originally sat on "44 perches of land" (about 5 acres), and included a brick kitchen, two-story back addition with first and second floor porches, a wheelwright and wagon shop, barn and smokehouse. The family sold the property at Philip's death in 1834 and in 1882 Hugh Ely sold the property to St. John's Roman Catholic Church for a convent. In 1964, Mrs. Alice Narducci enlisted the help of local residents and persuaded the church to deed the Marshall House to the N.J. Dept. of Conservation & Economic Development for preservation purposes in 1967 rather than tear it down. The State leased the Marshall House, unrestored, to the newly born Lambertville Historical Society.