Holcombe-Jimison House and Farmstead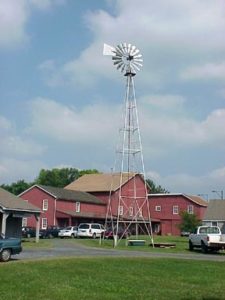 Holcombe-Jimison House, under restoration, circa 1711, is thought to be the oldest standing recorded home in Hunterdon County, New Jersey. Over the years, the Holcombe-Jimison 1711 House, along with its lands, survived a series of insults and losses. The digging of the Delaware and Raritan feeder canal (1830-34), laying the railroad tracks in the mid-nineteenth century, and the addition of pipelines and power lines in the twentieth century, have carved the original 300 acres down to 12. The 1711 house narrowly escaped demolition again in 1980, when planned access roads for the new Route 202 toll bridge were scrapped. After being part of the lands of William Penn, George Hutchinson and John Calowe, property records show that John Wey purchased 300 acres, including this site in 1704. It is not known if any structures were present at that point. The original, stucco-covered stone section of the house has a date stone marked 1711. It is possible it could be even older.
John Holcombe, purchased what was then a plantation in 1733. It stayed in the Holcombe family until 1858 when it was sold to settle an inheritance dispute, to John Barber. The Barbers farmed it from 1865 until Milo and Rachel Jimison bought it in 1950. In 1968 they deeded 20 acres to the Hunterdon Historical Society with life rights. The Society then deeded it to the newly-formed, non-profit Holcombe-Jimison Farmstead Corporation in 1984. Who continue to operate the museum and are currently restoring the 1711 house.
TOUR OF THE 1711 HOUSE
Enter the door on the right and proceed into the kitchen and then into the center room. Take a look at the "original" fireplace (discovered behind a wall) which has been restored. The original chimney from 1700 is still intact. The Hunterdon County Cultural and Heritage Commission provided a grant to aid in the restoration of the ceiling beams and kitchen floor. When replacing the kitchen floor, a cistern was discovered that was dated 1899. It can be seen through a Plexiglas cover installed during the renovations. The restoration is a lengthy and expensive proposition.
THE FARMSTEAD
This facility includes the large 1891 bank barn that houses an extensive collection of area artifacts dealing with life and farming in the region. There are also two large barns displaying farm equipment, a general store, a post office, a blacksmith's forge, a 20th century belt driven machine shop, and a print shop.