ArtYard's Main Building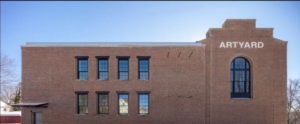 ArtYard, a nonprofit contemporary art center and residency, has opened its newly completed 21,000-square-foot home with two floors of exhibition space, and a 162-seat state-of-the-art theater. This interdisciplinary art center is located at 13 Front Street in Frenchtown.
With its new art center, ArtYard aims to create a welcoming communal resource and deploy the power of art to unsettle, engage, bridge divides, and occasion moments of arresting beauty.