Reflections Art Salon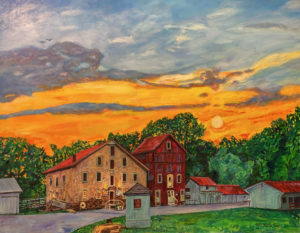 Opening Friday, March 11 from 5 to 9 PM; March 12 from 11 to 5, March 13 noon to 5.
Reflections Art Salon presents the eclectic works of 5 local artists, who love and express the dynamic energy of our beautiful Delaware River region. The show and sale takes place in the spacious, historic gristmill at Prallsville Mills- a wonderful venue for our area's creativity.
Artists include Hollis Bauer, creator of unique works with unusual natural stones, hand-cut gems, sterling silver, and high karat gold; Ruth Jourjine, whose fantastical and colorful ceramic sculptures are done both by wheel and hand; Bob Liana, sculptor in wood and hand crafter of leather; Eugene Patti, whose abstract paintings contain realistic elements, while his realistic images veer toward the abstract; and Mike Mann, an impressionist/realist painter of colorful scenes both local and distant.
There will be an opening reception on Friday night, March 11 from 5 to 9 PM, featuring Dan Kassel on the cello. The show continues on Saturday from 11 AM to 5 PM and Sunday from noon to 5 PM.